CONFERENCE 'THE CCP'S FORCED ORGAN HARVESTING' – FEBRUARY 24, 2021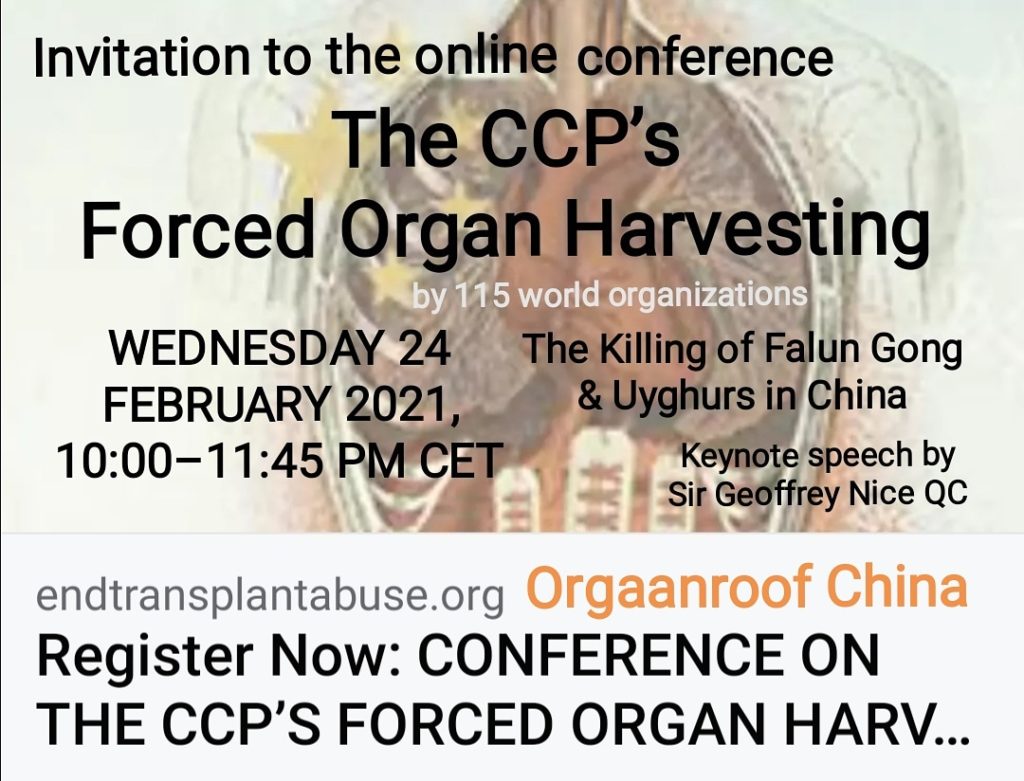 Coalition To End Transplant Abuse In China (ETAC) together with 116 world organizations invite to this online conference
The CCP's Forced Organ Harvesting
of Falun Gong & Uyghurs
WEDNESDAY 24 FEBRUARY, 2021, 10:00 PM – 11:45 PM CET
117 world organizations (1), would like to invite you to attend a conference on Forced Organ Harvesting to review the evidence and recommended actions. With keynote speaker Sir Geoffrey Nice QC who chaired the China Tribunal in 2019/2020 (2) as well as chairs the Uyghur Tribunal investigating the claims of genocide and crimes against humanity at the moment (3).
With 6 very promising expert speakers and 8 MP's and MEPs giving remarks, China Alarm highly recommends to attend this online conference.
WEDNESDAY 24 FEBRUARY, 2021, 4:00 PM – 5:45 PM ET

WEDNESDAY 24 FEBRUARY, 2021, 1:00 PM – 2:45 PM PT

WEDNESDAY 24 FEBRUARY, 2021, 10:00 PM – 11:45 PM CET

THURSDAY 25 FEBRUARY, 2021, 8:00 AM – 9:45 AM AEDT

🚩To attend, please register here:
RSVP: https://attendee.gotowebinar.com/register/7310088076264056077

🚩 Time table & speakers
4:00 PM ET

Opening & Introduction

4:05 PM ET

Keynote

Sir Geoffrey Nice QC – China Tribunal's Judgment

4:20 PM

Speakers

Prof. Wendy Rogers, MD, PhD – Ethical Responsibility

Mr. Ethan Gutmann – Forced Organ Harvesting from Uyghurs in China

Dr. Sean Lin, PhD – Forced Organ Harvesting from Falun Gong

Dr. David Matas – The Need for Responses

Ms. Kristina Olney – US Legislative Responses

4:50 PM ET

Remarks

Senator Marilou McPhedran, C.M., B.A., LL.B., LL.M., LL.D. (Canada)

Mr. Ramesh Sangha, MP (Canada)

Mr. Sameer Zuberi, MP (Canada)

Rep. Greg Steube (US)

Mr. Adrian Vazquez, MEP (EU – Spain)

Mr. Ivan Vilibor SINČIĆ, MEP (EU – Croatia)

Mr. Ilhan Kyuchyuk, MEP (EU – Bulgaria)

Ms. Louisa Wall, MP (New Zealand)

5:20 PM ET

Q&A

5:35 PM ET

Closing Statement

No(1) The organizers: 117 world organizations:
https://endtransplantabuse.org/register-now-conference-on-the-ccps-forced-organ-harvesting/
(2) China Tribunal's Judgment:
www.chinatribunal.com
(3) Uyghur Tribunal:
https://uyghurtribunal.com/
To prepare a bit for this event, China Alarm suggests to watch the 8 min. video on the China Tribunal's Judgment and/or read the Tribunal's conclusion (1).
🚩 For more information on the speakers, please click on this link:
Register Now: CONFERENCE ON THE CCP'S FORCED ORGAN HARVESTING
🚩 Press release on this event by the Vietnam Democracy Center:
Cision – 10. 2.2021
Vietnam Democracy Center Among 117 Organizations to Call Attention to the Practice of Forced Organ Harvesting
https://www.prnewswire.com/news-releases/vietnam-democracy-center-among-117-organizations-to-call-attention-to-the-practice-of-forced-organ-harvesting-301226193.html